This is an essential guide on how to use Google Search Console, also referred to as GSC.
This is the guide that you must definitely read today if you're trying to learn how to set up Google Search Console and want to take full advantage of it to boost your site's SEO.
GSC allows site owners to access a set of tools to monitor how their site performs. Not only you're able how your site is doing under the hood, but also how your the searchers see your site in the SERPs.
You'll get information on keywords and queries that are bringing traffic to your site, find out which rich search results your content is ranking for, and discover how your mobile site is doing.
If you're a beginner, then this tutorial is a perfect introduction to Google Search Console.
If you're a pro- then you'll still learn something new today… I promise.
Ready to see for yourself?
Keep reading…
What is Google Search Console, and Why do you need it?
Google Search Console is a free service for webmasters offered by Google, and it helps you monitor how your site appears in Google Search results. This tool also gives you access to important data such as Google Search traffic data for your site, which search queries show your site on SERPs, backlinks, and much more.
GSC will help you monitor your site's traffic, optimize the way your site shows up on SERPs and improve your rankings, and identify/fix any errors about your site's appearance in search results.
The information provided by GSC can be used to influence any technical decisions for your site and execute marketing analysis in conjunction with other tools like Google Analytics, Google Trends, and Google Ads.
How to add your site to Google Search Console
How to use Google Search Console…? First you need to have it for your site, right? Totally makes sense. Here's how to add and verify your site right now.
Step 1– Go to Google Search Console and click "Add Property".
Step 2– Paste in your site's address and that is it… almost.
Well, you do need to verify that you own your site. Yes, I know you know you own it; but Google needs to see proof. And who are we to argue with THEM?
There are many ways to verify but these three  are the easy ones (in order of best; good; decent):
HTML code snippet– Add a code snippet they give you to the head section of your site
HTML file– add an HTML file to your site
CNAME  or TEXT record- you add these to your host's domain settings
Here's how to verify with HTML code
Step 1– copy the entire code
Step 2– Go to your WP dashboard and click on Appearance/Editor/Theme Header
Step 3– Copy the code anywhere between the two "head" tags
After you've done it, just click "update" and… great job!
You're now a verified and proud owner of your website (as if you didn't know that before).
Two bonus tips (linking with Google Analytics and deciding on a preferred domain)
GSC is a wonderful tool that works great on its own. But it performs even better in tandem with the other awesome tool Google provides for free- Google Analytics.
And to really make the best use of both of them, you need to interconnect them.
I have to admit:
I never did this before. I didn't understand the significance of conjoining the data the tools provide.
But I was wrong. I understand that know and next, I'll learn how to connect Google Webmaster Tools and Google Analytics.
Here's a crazy thought- why don't we learn it together? 🙂
First, I'll log into my GA account. Then I'll click on "Admin" and "Property Settings".
Then I need to scroll down until I find "Adjust Search Console".
I click and then add my site.
That's it!
Of course it'll take time to populate, but eventually, I'll get new data like:
Landing pages with impressions and click data
Keyword data
click, CTR impression and position data by country
Overall, it makes my life easier as a marketer.
How to set your preferred domain in Google Analytics (and why you should do it)
You need to do this as a precaution. Google usually knows which is the preferred version to display (www.yoursite.com or yoursite.com), but you can never be too sure and it's best to take matters in your own hand, especially as it is so insanely easy (as you'll see below).
Why is this so important?
Because of two reasons.
First, If people happen to link to you, but use the address www.yourdomain.com and your site is actually indexed under yourdomain.com (no www)- then that link won't count for you.
Second, and this is the worst case scenario (that happens all the time on the web);
You can have duplicates of your posts and pages on the web and that's the surefire way to turn your site into a bamboo shoot, so that Google Panda can eat it, to his, but not yours, delight.
Don't let it happen to you.
So, (now we've traveled back to GSC) click the "gear" button in the top right corner.
Then press "Site Settings" button and select how you'd like Google to show your domain in the SERPS.
Note– To be able to set this up, you need to have the HTTP version of your site and it needs to be verified. No biggie, just repeat the verification process as described above.
OK,
The preliminaries are done!
Those of you who're still reading prove to me that you're really interested in what GSC can give to your SEO.
And I give you my official permission to read on:)
How to use Google Search Console to boost your SEO
I'm going to divide this section into two and a half parts.
"Don't you mean three, or two parts?
No- I mean two and a half.
Overview- (Performance and URL inspection)
Index- Coverage and Sitemaps
I'll also throw in bits and pieces about mobile usability, security reports and backlink analysis of GSC.
That's the "half" part.
 #1. Overview- keep your site clean, lean, machine, or else…
 1. Url inspection.
This is actually the second tab, but it's first here because there isn't much to say about it.
Url inspector is a handy little tool that gives you a quick overview of any URL of your page.
Is the page indexed? is it mobile friendly? Is it in your XML sitemap; or did you forgot to add it?
All of this and more answered through Google's inspection tool.
Nice:)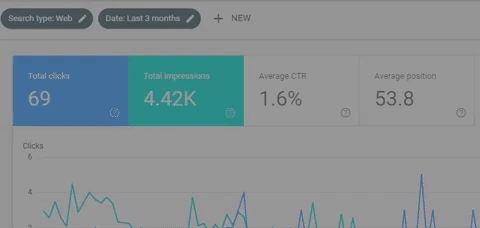 2. Performance (with my site as the test subject)
As you can see, my website is getting very little traffic. That's ok as I don't really promote it in any way, and only use it to showcase my writing ability.
It has served me well in finding new clients, and it'll help us today to showcase the most amazing part of GSC- Keyword performance metrics.
Hey you! Pay attention!
Beside that overview from the above, did you notice there are several horizontally aligned tabs right below?
This is where you really dig deep into the report to extract the nuggets of gold that can change your business.
a) Queries:
These are the keyword your sites ranks for, or better put is indexed for. This area is awesome for keyword research and content upgrades, which I'll talk more about below

b) Pages:
This is where you can see your pages and how they're performing in the SERPS.
Especially valuable data is clicks-vs-impressions ratio.
Because you know that pages with high impression count, yet low CTR are almost ranking well. Almost, and they just need a small push that you can provide.
Note– a big improvement over the last GSC is the available time range for data. It used to be just 90 days. Now- it's 16 months.
This is HUGE for SEO!
c) Countries:
This report tells you where your readers are coming so you can optimize better for them.
d) Devices:
Perhaps you've heard that mobile is on the rise?
THAT… is true and you better optimize for them smartphones:)
However, ever niche is different. For example, my site is in the SEO space and I get most of my visitors from desktop.
And I'm sure the same is true in Ronald's case.
This report is gold because, if you know that most of your readers come from mobile, you will create your content to cater to them specifically. For example, you will format it in a way to be extra readable on smaller screens.
e) Search Appearance
Here you can see how your pages are presented to the visitors. And there are two options available.
Rich results
Web light results
What's the difference between them?
Well, rich results are how your page actually looks and how you built it to look.
Web light result is the stripped down version.
Even more so than AMP pages.
Google show light version to people who have slow mobile connections, and it happens automatically, so there isn't much you can do about it, But still, it's good to know that it happens.
You can read more about Web Light Technology here

How to use this data to your advantage (especially the queries section)?
Well there are two ways you can do it
First,
When you see all the queries your site is indexed for, you know that you're sitting on a potential goldmine.
What do I mean exactly?
Well, let's say that you notice you get a lot of impressions for keyword X, yet very few clicks. This means that the page is probably ranking on page one but position nine or ten. Ahh, if only there was a way for you to boost it somehow!
Oh, but there is:)
You do it by funneling authority from your internal pages to the one you want to rank.
You see, internal links alone are almost never enough to get you to rank. you need backlinks for that. But once you are on the first page, then they can give you that final authority burst to reach the top.
But, not all internal links are equal.
They need to be:
Relevant (a must or Google will devalue them)
Powerful
Relevant links come from relevant pages.
Simple.
And relevant pages are those that mention the keyword you're trying to rank for.
For example:
I rank on the first page for the term "Site Rubix review". If I wanted to be number #1, I'd need to send some link love to that page.
Here's how I'd find the pages to link from
I'd type in Google: site:nikolaroza.com siterubix
Both pages are a candidate for hosting my link. And we know they're relevant because they mention Site Rubix somewhere on the page.
Also, the best links are those that come from high authority pages. To find those you go to Moz (free account) and enter your domain.
Then click on "top pages" and you'll see your pages and post ordered by the mount of automount they have.
The downside to this approach is that it requires you to open a free Moz account. The other problem is that the data is limited and often useless (we're being honest here).
Luckily, there's a way to find your top pages and within the GSC itself.
So, inside the GSC go to the "links" section and there you will find both external and internal links.
You want to look at both because the page that gets backlinks is going to be much stronger than the others.
But also, all your pages high in the nav bar are naturally going to be powerful, just because they're so high up in your site's architecture and interconnected with the rest of the site.
#2. Index- Coverage and Sitemaps
This is where you can find out whether your site has errors or not.
Normally, Google bot visits and indexes everything with no difficulty. But sometimes, technical problems do arise and you want to get on top of them fast because they tend to multiply with the passage of time.
The area is divided into four
Error– Page's on your site that return errors  (404's soft errors,  redirection mistakes )
Valid with errors– Google was able to parse them but they also found errors
Valid– all good here
Excluded– Pages can be excluded because you want them to be; or because Google deems them valueless to their index.
The main area to look at is the errors tab. It's because the pesky these pesky little things are really insidious. Normally, url errors don't affect how you're ranking in the SERPS.
But when when enough of them pile up- down goes your site, like the Titanic.
There are many errors to think about, too many I can't possibly cover here.
So here are the two most common ones you're guaranteed to run into.
a) 404's- Dead pages
404's happen when the page is broken and gone, but the link remains leading visitors and bots to places that don't exist. That is terrible UX and bad SEO and you need to fix it.
How to fix 404 errors?
You can:
Recreate the page on its old URL
Redirect the page to another relevant page (best); or the home page (not perfect because Google might discount it)
Remove all links that point to that page (hard to do if it has acquired links)
Leave it be and hope Google will eventually deindex it.
Bottom line:
If the page has authority don't let it go to waste. Otherwise, don't worry about it.
b) Soft 404's0 dead pages, sort off
Sort off, meaning they're similar to regular 404, the content is gone but the page doesn't give 404 page missing code, but something else.
Here are your fixes:
Make it a hard 404- this will put it on the schedule to eventually be removed
Redirect the page to another relevant page; or to the homepage
Recreate the page
Keep in mind, that, while 404 errors don't hurt your rankings, soft 404's might, so you need to take care of them as they arise.
Also, this was just a basic overview of 404's and soft 404's. To learn more, visit this resource
Links- one flaw to ruin them all
I'm kidding you. GSC is a superb tool overall, but their link report sucks.
So I won't cover it in detail here as it'd be wasting your precious time.
You see:
Google knows all your links and they could show them to you, if they wanted to… but they don't want to.
Instead, they show you samples. And not nearly your entire link profile.
To make use of this section you'd need to combine GSC's link report with Ahref and/or Open Link Explorer. These are the best tools and they show links GSC doesn't.
But to be fair, I find that GSC also shows me links Ahrefs doesn't so, so combining them is key.
Manual Action
If you've been naughty enough to warrant a manual penalty…
First… good luck!
Second… They'd tell you about it and this is where you'd see it.
Google Fetch and Sitemaps
Right about as I was sitting down to write this how-to guide to Goole Search Console, I received notification that the old Search Console is shutting down and everything is being transferred to the new one.
So I waited and waited and waited.
Finally, when nothing happened, I decided to write a part that pertains only to the old Search Console, though this is still a guide to the new Google Search Console.
Rest assured that when they do make the change- the process will remain largely the same. The visual might become dated, but the info will still be valuable to you.
Fetch as Google- the how to mini guide
Here's how: to quickly index any URL:
Pick a URL you want to index. In my case, I will do it with my recently published review  of Wealthy Affiliate University
Go to fetch as Google page
Paste the URL and click fetch
Note– you can also do a fetch and render. This lets you observe how Google sees your page. Very useful when you suspect Google can't correctly parse elements of your page.
XML Sitemaps- the easy SEO win of today
XML sitemaps are an easy SEO win for every website.
XML part sounds scary but you need to RELAX RIGHT NOW!!!
(I'm shouting at you, how relaxing is that?) 🙂
Plugins do the heavy lifting and you just have to point and click.
Think you can do that?
The two most popular plugins are Yoast SEO and ALL in on SEO . and I will show you how to create a sitemap with both.
Yoast SEO XML sitemap
In your WordPress dashboard and on the left, there's an "SEO" tab Click on it an go "General".
Once there go to "Features" and scroll down till you find the XML sitemap.
Then it's just the matter of submitting to Google.
Here's how:
Go to Sitemaps in GSC (new version)
Paste and submit and you're done.
All in One SEO XML sitemap
In your WP dashboard click on "ALL in One SEO/ XML sitemap".
Once there you need to tinker with the settings a bit. It's easy but if you're doing it for the first time, you're bound to be confused.
Luckily, only some boxes are important to check or uncheck, as you'll see below.
Schedule updates– No schedule, which sets it to be updated whenever you update your site.
Post Types– All post types. It's best to include everything and let Google decide what to index.
Exclude images– No, because Google want them to be submitted.
Create a Compressed sitemap– Yes. This is a backup sitemap search engines can use if they can't retrieve the original.
Dynamically generate sitemap– Yes, this ensures that the map will auto-update as you publish new articles or update your old blog posts.
Priorities– Just make sure that homepage and taxonomies  (categories and tags) are set to 1. This means they are of the highest priorities and will be crawled the most. And they're the gateways to all content on your site.
And that's it. Then you just need to just submit the sitemap like you saw above.
Google Search Console: Use it or lose it!
I mean you won't ever truly lose it. Because GSC will always be there for you to leverage it. But if you're not using it to your advantage right now, and your competitors are- you're in trouble.
However, I know my warning did NOT fall on deaf ears.
Wanna know how I know that?
Because you read this piece to the very end.
You'd be a fool to have read and obtained the knowledge- and then proceeded not to use it.
I know you're not stupid.
So go for it.
And let me know in the comment area if there's something I can help you with,
Cheers:)
Other helpful resources for you: